Parimatch Casino personal account
Do you ever wonder why you would need a Parimatch personal account? We are here to clarify your doubts.
There are several reasons why you should create an account on our site – you will be able to play pokies and other games for real money; you can claim and benefit from the outstanding list of bonuses we offer, and you can become part of our VIP Club which rewards only players who keep depositing and playing on our platform.
Read along as we'll guide you through all the steps of registering an account on our Parimatch Australia website.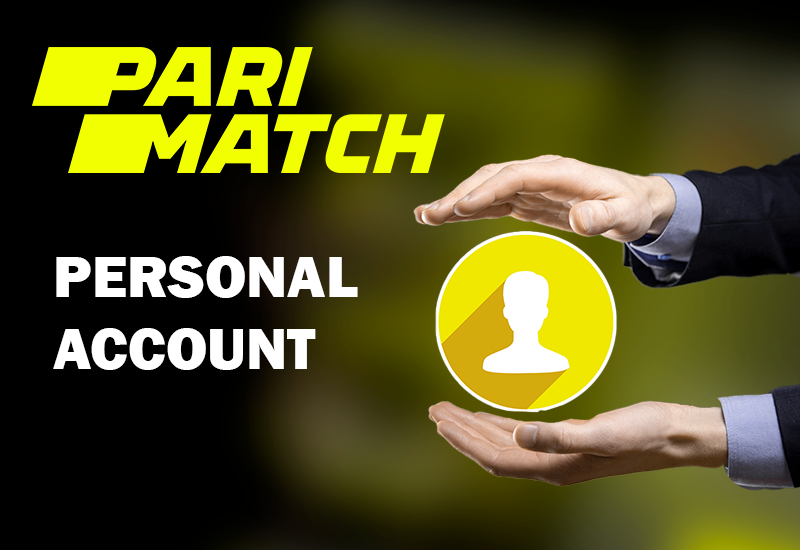 Parimatch Casino Registration process
We have made the Parimatch registration procedure very simple, intuitive, and easily completed in just a few steps. Creating an account will open a whole new world of real-money live games, slots, and other advantages for Aussie players. Follow our Parimatch how-to register guide and create an account successfully.
In case you have trouble registering, or you experience an unexpected error during the process, don't hesitate to contact our customer support which is always there to assist you. Remember to insert only the correct data while completing the registration because you will need to verify your account and the data you've specified in the following steps.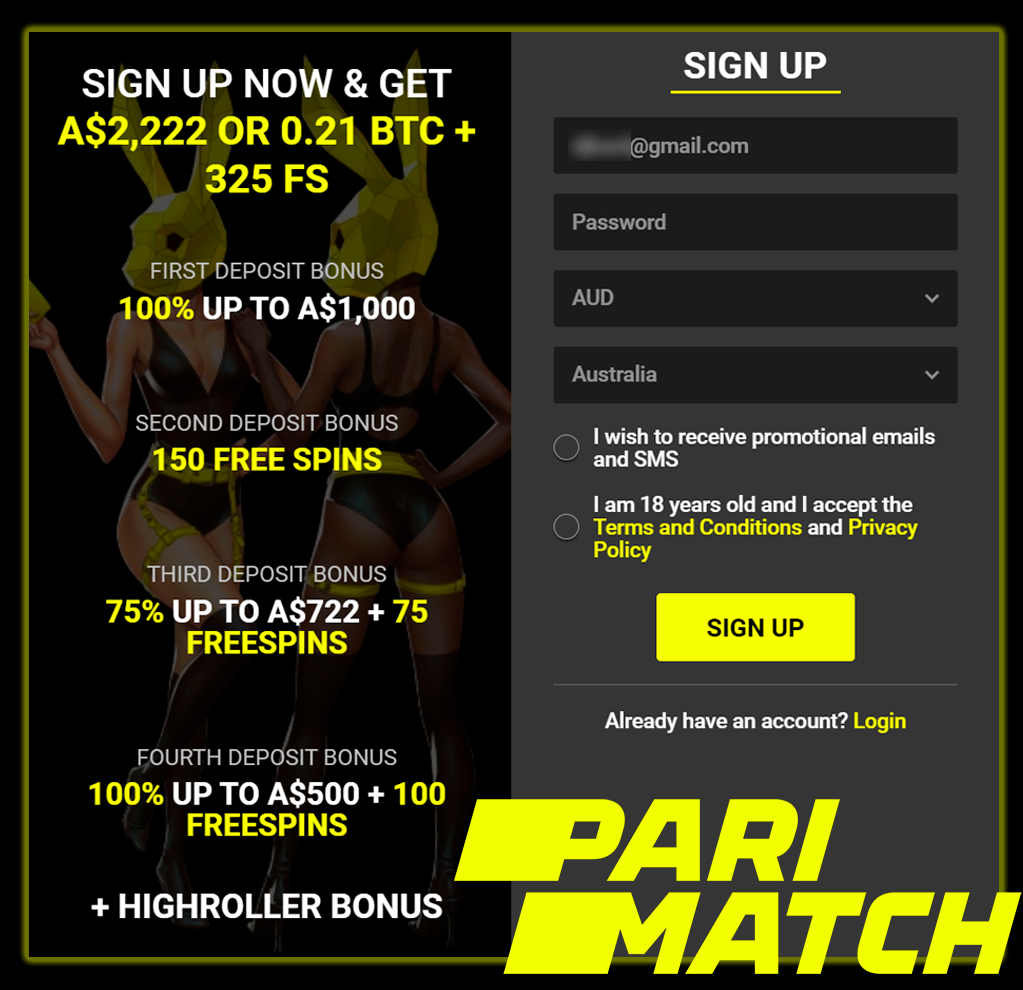 1

Step 1

Visit our official online casino site.

2

Step 2

Click on the yellow 'Sign up' button, which is placed in the top right corner of the homepage.

3

Step 3

In the new signup pop-up window, enter your email and password and then select the currency and country.

4

Step 4

Tick the boxes if you'd wish to receive promotional emails and SMS, and affirm that you are of appropriate age and have read our T&Cs and Privacy Policy.

5

Step 5

Click the yellow 'Sign Up' button.
Video instruction on how to register
Entering the casino
In case you logged off after the Parimatch registration or aren't already automatically logged in when revisiting our page, you'd need to log in on our online site again. Australian players will need only a minute or two to complete our login process, and here's how:
Step 1 – Open the official Parimatch site.
Step 2 – Click the white "Login" button which is located in the top right corner of the main page.
Step 3 – In the pop-up login window, enter your email and password.
Step 4 – Click on the yellow 'Login' button.
If you have forgotten your password and can't log in, there is a button through which you can directly change it. Simply click on the yellow letters that say 'Forgot Your Password' below the big 'Login' button, and you'll be redirected to a suitable window. Additionally, you can also sign up from here, if you haven't previously done it, by clicking on the yellow letters that say 'Sign Up'.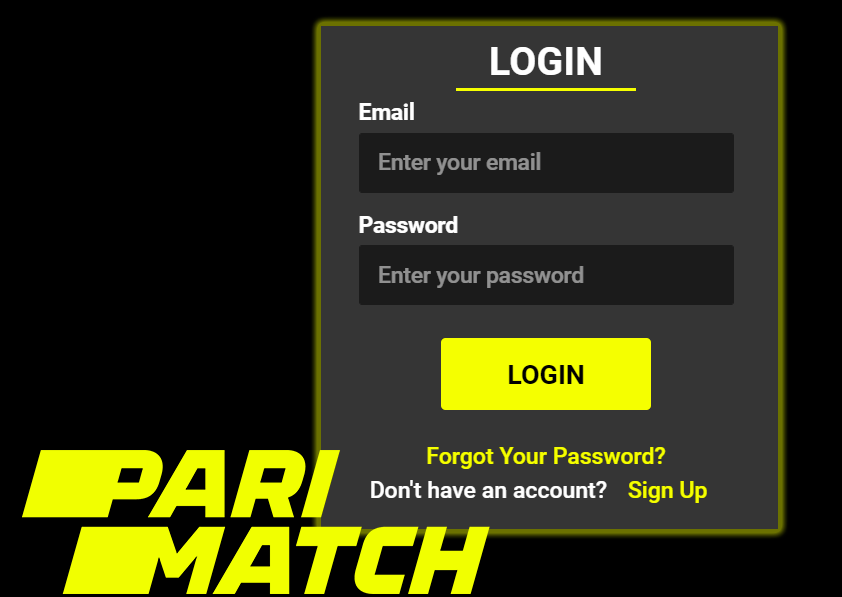 How to register at Parimatch via mobile devices
Completing the Parimatch sign up procedure via mobile or app is equally as simple as doing it on your desktop or laptop. After registration, you'll be able to enjoy the benefits of playing our games and claiming bonuses exclusively via mobile. There are the requested steps: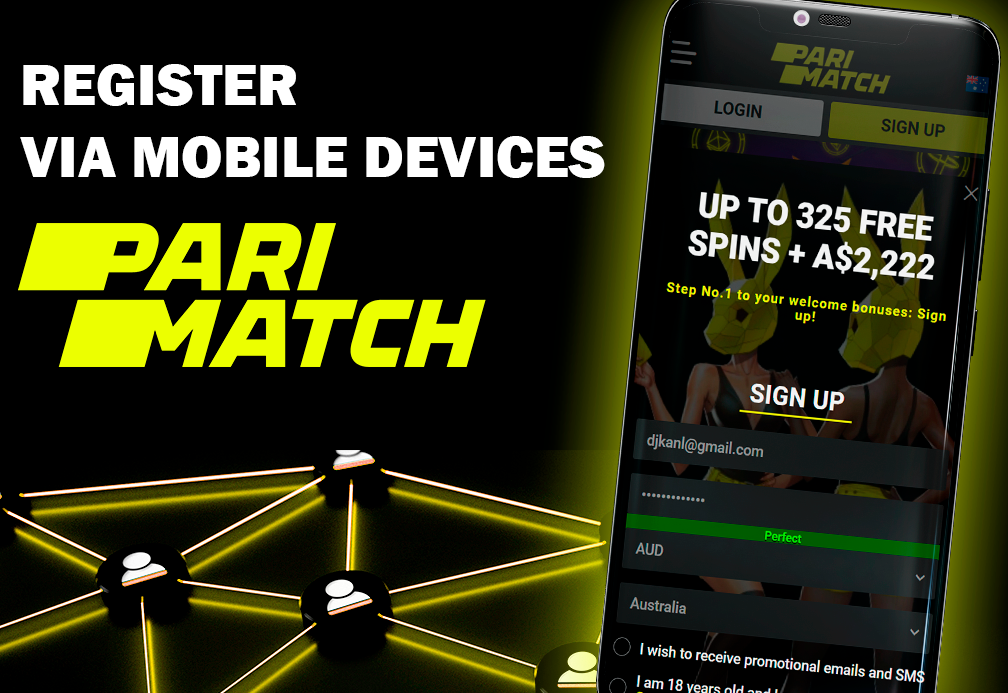 1

Step 1

Open your preferred mobile browser, for example, Google Chrome.

2

Step 2

Type in the URL of Parimatch Casino in your search bar.

3

Step 3

Click on the yellow 'Sign Up' button placed on the top of the mobile page, on the right.

4

Step 4

Type in your email and password and then select the currency and country.

5

Step 5

Check the boxes if you want to receive promo emails and SMS, and confirm that you are above 18 and have read the T&Cs and Privacy Policy on our online site.

6

Step 6

Click on the yellow 'Sign Up' button.
Overview of the Profile
Once Australian players have successfully gone through the Parimatch sign up process on our site, they'll gain access to several new sections. These sections specify their profile information, give additional details on the promos, and portray the game history and possible account limits to set. We'll go through them in detail below.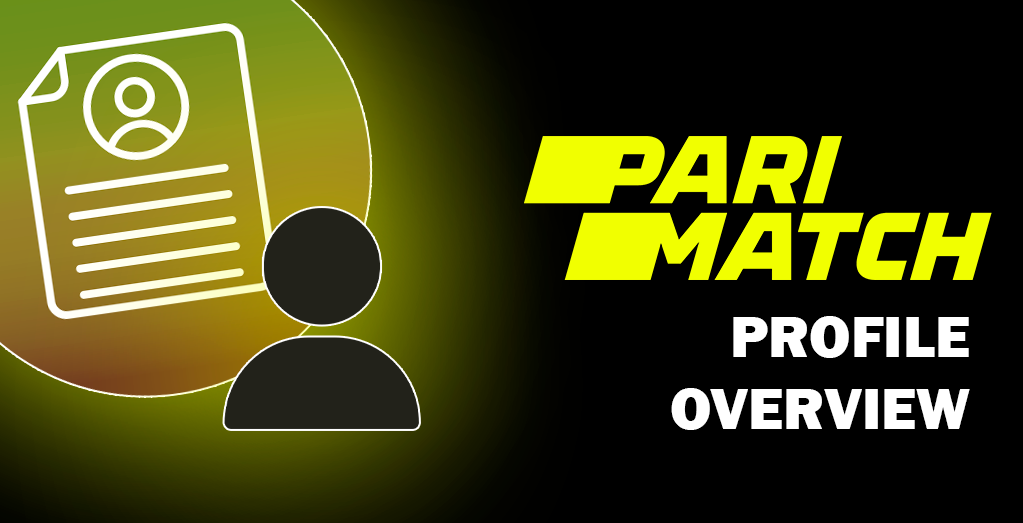 personal Profile
We divided the Profile tab into three additional subsections, which make it easier to navigate this segment and get to the points you are looking for as quickly as possible.
General. Under the 'General' segment of the Account information, every Aussie player needs to specify some additional personal data. After the automatic completion of the email and country you've registered with, here, you need to enter your first name, last name, date of birth, gender, city, address, postal code, and mobile phone number.
Verification. Under the 'Verification' tab, we ask you to upload some legitimate documents which will help us verify your account. In order to prove your identity, you can upload a copy of your passport, driver's licence, or any other official document that can serve as ID proof instead. The address can be proved by uploading a utility bill or phone bill that shouldn't be older than three months. Finally, we ask you to upload a screenshot of your bank statement, a bank card, or Skrill details that display the payment of the deposit. Lastly, you should enter your phone number and click on 'Verify'.
Security. Account security is our top priority, which is why we insert two-factor authentication. Simply scan the QR code with a suitable app on your phone. Here, you can also change your password by entering the old one and then typing and confirming the new one. The last part of this page shows your session history, IP address, and activity time.
Promo
The 'Promo' section on our Parimatch Casino site shares useful information on your promo-related activity. Firstly, you can check how well you progress in the VIP club, at which level you are, and the number of points you have. Then, we offer a shortcut to all the promo codes you need for claiming the welcome bonus. Finally, you can see your bonus history and a place to enter a promo code.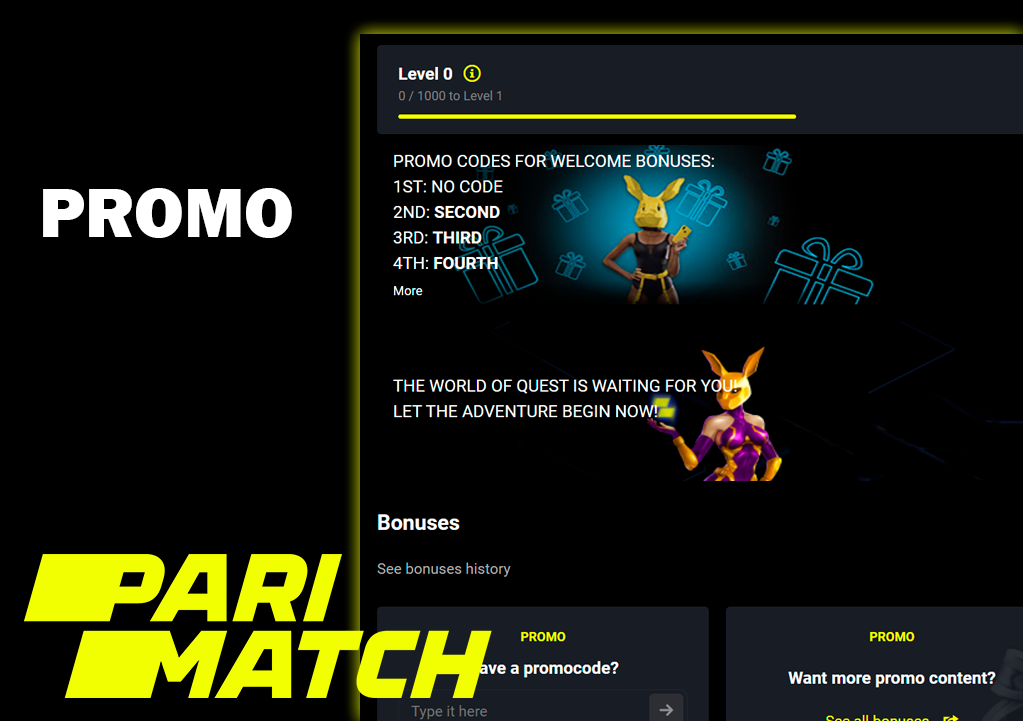 Wallet
The Parimatch 'Wallet' section is also subdivided into four different sections.
Balance. The self-explanatory 'Balance' section displayers the current account balance, differentiating between the withdrawable funds and those locked by bonus. Here, you can also add another balance linked to another currency of your choice.
Deposit. Under this tab, you can clearly deposit funds. Firstly, select the payment method on the left. Then, enter or select the amount, enter the payment details which depend on the chosen method, enter a promo code if you wish to, and click on the 'Deposit' button.
Withdrawal. Similarly to the deposit tab, in the 'Withdrawal' tab at our Parimatch Casino, you can select the payout method on the left and enter the payment account details on the right. In the end, click on 'Withdraw.'
Transactions history. The transaction history tab transparently informs you about all the transactions that you've made on our Parimatch site so far.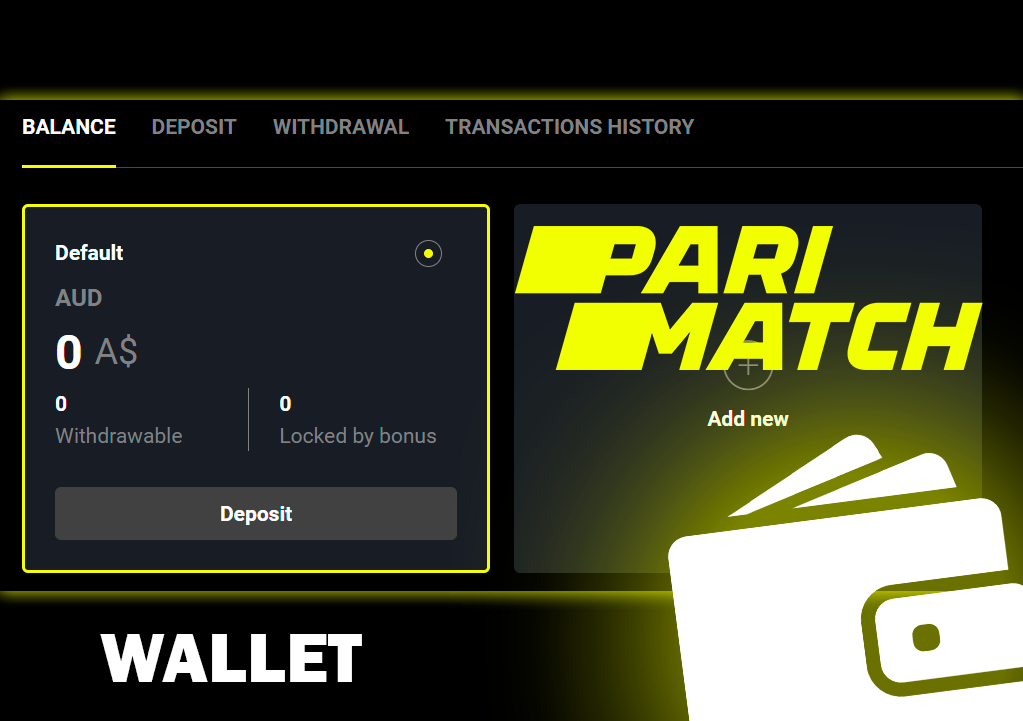 Game history
The 'Game History' tab allows you to keep track of your gaming activities on our gambling platform. All the games you have played on our online site will be placed under the 'Game History' tab in your account.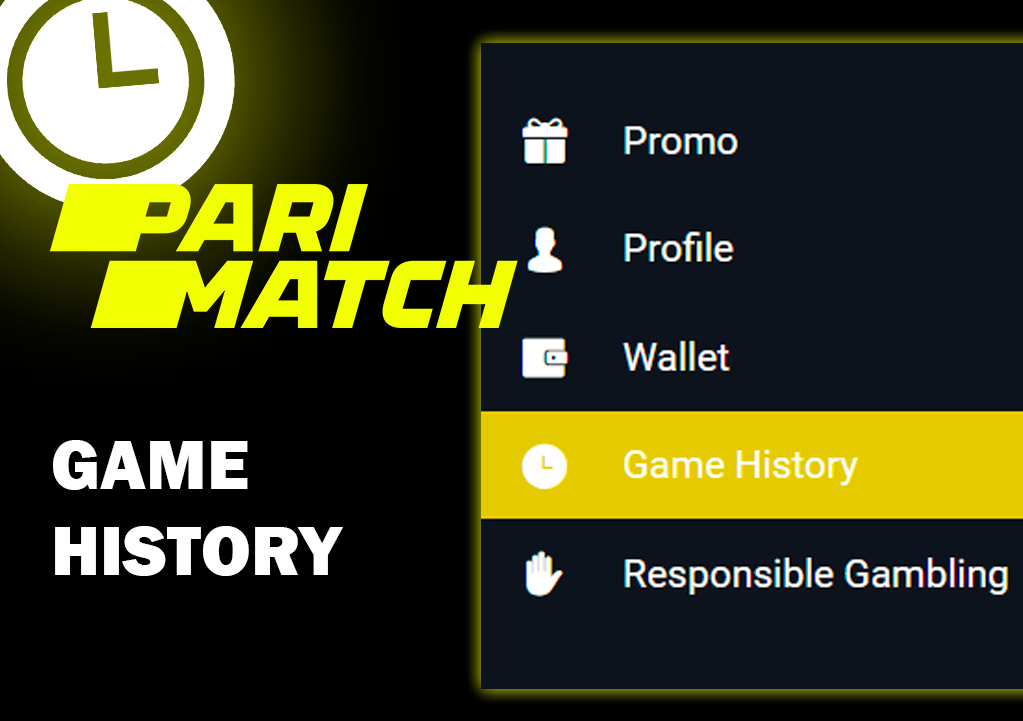 Responsible Gaming
This very important section is dedicated to placing limits on your account in order to make sure that you practice responsible gaming. You can set:
Loss Limit;
Wager Limits;
Session Limit;
Cooling Off.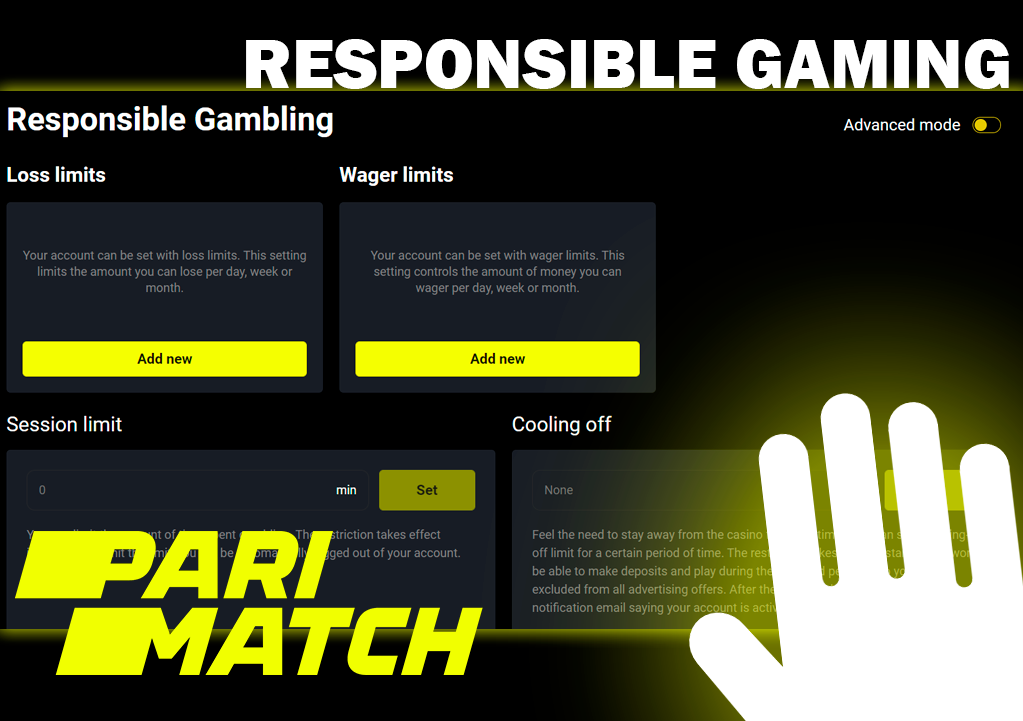 How to make a deposit?
Let's break down the depositing process on our Parimatch online site, which is quick and straightforward.
Enter our official site and access your account.
Once in your account, click on 'Wallet' from the vertical menu.
Select 'Deposit' from the horizontal menu.
Choose the banking option and enter the amount and payment account details.
Click on 'Deposit.'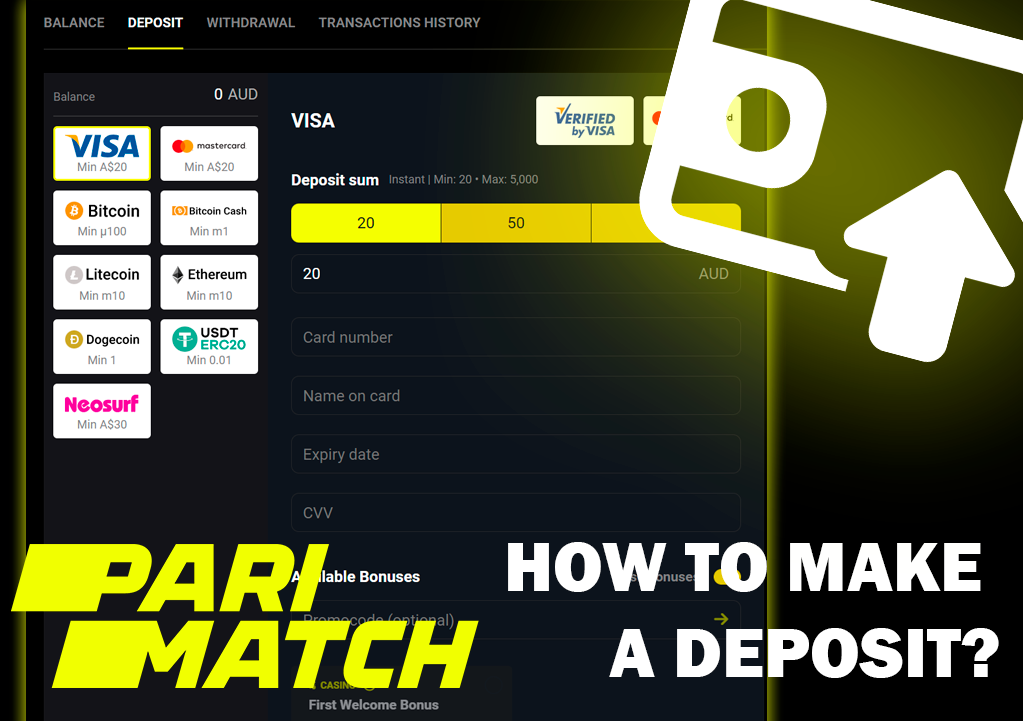 FAQ
How to register?
Registering on our Parimatch Casino site is as easy as it gets. First of all, visit our official site and click on the yellow 'Sign Up'. Then, enter your email and address and choose the currency and country of residence. After that, tick the boxes to confirm you have read the T&Cs and the privacy policy and if you wish to have access to promo emails and SMS. Finally, click the yellow 'Sign Up' button, and you are ready to play!
What should I do if I forget my password?
No worries, you can change your password at any time. You can do this via the Parimatch Casino sign-in window by clicking on the yellow 'Forgot your password?' button, or, you can access your account, enter the 'Profile' section, then click on 'Security' from the horizontal menu, and there you'll be able to insert your new password.
Can I change my email address?
Unfortunately, we are sad to inform you that the email address cannot be changed at any time. The email address you enter upon registration is definitive, and it is the one that will be automatically filled under the General section of the Profile, and we will send verification details there.
Do I need to verify my account?
It's better if you go through the verification process, but it isn't mandatory. However, if our team considers it necessary to verify your account, they can request it at any time. After the request, you will probably have to wait for a couple of days for the casino representatives to check the verification details.
What age is it possible to register at the casino?
All Australian gamblers above 18 years old are considered to be of legal age and can use the services of our casino. We advise you to do a further check-up of the laws imposed by your local government to avoid further lawful complications.